Cerenity Senior Care Humboldt in
St. Paul

, Minnesota
Cerenity Humboldt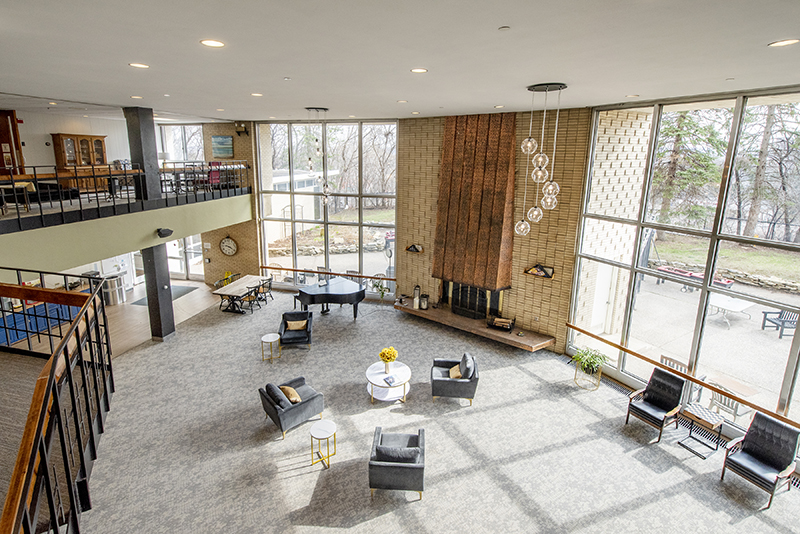 Location and Contact Information
The Residence
514 Humboldt Avenue
St. Paul, MN 55107
651-227-8091
The Care Center & Transitional Care
512 Humboldt Avenue
St. Paul, MN 55107
651-220-1700
Get Directions
Metro Transit buses 67 and 75 stop at Humboldt and Robie.
Cerenity Humboldt offers Assisted Living, Memory Care, Skilled Nursing, Rehabilitation and Hospice care services. The campus has two buildings, The Residence and The Care Center, located on a 15-acre, park-like campus. The Residence at Cerenity Humboldt consists of Memory Care for people in the early stages of memory loss as well as Assisted Living. The Care Center at Cerenity Humboldt offers Rehabilitation, Hospice, 24/7 Skilled Nursing care, and Memory Care for seniors with advanced-stage Alzheimer's and dementia.
The Residence at
Cerenity Humboldt
Cerenity Humboldt offers 117 exceptional, yet affordable apartments for seniors who no longer want to live on their own, but want to maintain their independence. Meals are served restaurant-style in the Humboldt Bluff Café. A wide range of recreational activities are available, including arts and crafts, men's group, manicures, bell choir; computer classes, card and board games, current events, outings, Yoga and the Live 2B Healthy exercise program.
We invite you to experience our community through the video below.
Virtual Tour
Floor Plans
The Residence at Cerenity Humboldt features a ground-floor lounge with fireplace and coffee area, activity/community room with large screen TV and outdoor courtyard. Pets are welcome if the resident can provide appropriate care.
The Residence at Cerenity Humboldt's Memory Care community provides a homelike environment for individuals with early stages of dementia and memory loss. There are two levels of living in memory care, and both are secure settings. One area is for higher-functioning memory care residents and the other is for those needing more direction and cues. We focus on our residents and encourage them to enjoy as much independence as possible.
Sensory stimulation is vital to these residents, and our Memory Care unit staff offers activities designed for mental stimulation and keeping residents active. Each individual's activities are personalized by the professional staff for their abilities.
Cerenity Humboldt's Memory Care unit is a Music & Memory℠ certified program, which provides training to nursing staff and other senior care professionals on the use of music to reconnect residents with the world. At Cerenity Humboldt, all residents have iPod Shuffles, headphones and two portable speakers – all donated by friends supportive of this project. Staff and volunteers get to know residents and create a personalized playlist for them to enjoy. The Music & Memory organization advises that, "Beloved music often calms chaotic brain activity and enables the listener to focus on the present moment and regain a connection to others." To play even a small part in facilitating such a connection is a privilege.
In addition to Memory Care, The Residence at Cerenity Humboldt's Transitional Care (TCU), rated 5 Stars on Minnesota's Nursing Home Report Card, provides Rehabilitation for people not ready to return home after a hospital visit. Our TCU has 30 private, spacious rooms, including bariatric rooms. Each room has a TV and cable, and patients have access to campus amenities, including the chapel and spiritual care, beauty/barber shop and gift cart.
The Rehabilitation staff's approach is to plan for discharge upon the patient's arrival. They coordinate the patient's rehabilitative care to improve function; support the patient as he/she adapts to changes in physical and functional status; and maximize the patient's level of independence in daily living activities. To help patients recover as quickly as possible, physical and occupational therapy are offered 6 to 7 days a week, and speech therapy five days a week. Outpatient and home therapy are available as well.
The Care Center at
Cerenity Humboldt
Round-the-clock Skilled Nursing and Rehabilitation therapies are offered at Cerenity Humboldt for up to 117 residents. Skilled Nursing is the highest level of care a person can receive outside of a hospital. Long-term Care, Rehabilitation and Hospice Care are provided. We also have a secured area for residents with memory loss. Private and semiprivate rooms are available, with a private Comfort Care Room that allows residents and their families to spend their final days together.
Wellness Activity Calendars